What we think
Curious about the new Maurten ?  Then this starter pack is for you!  
Did you know 3 out of 4 teams at the Tour de France are using Maurten (even though they are sponsored by other brands)? From the Tour de France to the 2-hour marathon record, or winning Ironman Kona last year, Maurten is the new choice of pro athletes.
This pack includes:
2 x Packets of Drink Mix 160 
2 x Packets of Drink Mix 320
2 x Maurten Gel 100
2 x Maurten Gel 100 Caf 100
Maurten Water Bottle
The best part is that Maurten is for everyone. While it is a big advantage for Pro Athletes, it is a HUGE advantage for everyday athletes.  Providing you the fuel so that you have the same energy and power at the end of your workout than you did at the beginning.
Maurten is sports fuel reinvented and, simply put - We are HUGE fans of if. This revolutionary carbohydrate-rich hydration mix is widely used by the best marathoners and cyclists in the world.  
It gently combines two crucial elements for you to use during your run or ride: A high concentration of energy and carbs are encapsulated in a unique hydrogel technology, allowing for smooth transport of carbs into the intestine where they are absorbed.  This reduces the risk of experiencing stomach issues by introducing the nutrients at a rate that your digestive tract can keep up with. 

Keep a close eye on how you mix it as 17oz (500ml) is the appropriate amount of water required for the hydrogel to form properly and to use this fuel source to its full potential.
Mix Maurten Drink Mix 160 or 320 with water, and you'll have a liquid sports drink containing high concentrations of maltodextrin and fructose. The drink instantly converts to hydrogel in the acidity of the stomach, encapsulating the carbohydrates. The hydrogel then enables a smooth transportation of the drink through the stomach to the intestine where the water, salt and carbohydrates are absorbed.  
Feed's Fave: Drink Mix 160 is ideal for cycling and moderate exertion levels. Use Drink Mix 320 for longer intense workouts including marathon training.

How We Use It
If you like calorie drink mixes, this is the BEST option to try on all intensity workouts. Be careful on the amount of water you use and pay attention to that detail.  17oz or 500ml is the amount you are looking for.  The mix is designed to be mixed with water with <40mg/L calcium content. Higher levels can affect how it's dissolved.  Maurten is careful to say that the functionality of this ratio is key for it to work well.  Also, make sure you shake well until the solution dissolves.  Drink it before, during and/or after your activity.
Questions & Answers
Reviews for Maurten Starter Pack
Customer Reviews
Write a Review
Ask a Question
Filter Reviews:
energy levels
water
taste
stomach issues
Maurten
stuff
NUUN
sweetness
servings
pack
03/06/2020
Jay A.
United States
I recommend this product
Awesome
Simple, effective and informative. Thanks for the recommendations based on a more personalized approach. The way marketplaces should work.
12/21/2019
Grant A.
United States
I recommend this product
First time user
Decided to use this pack to fuel my marathon this year...Took a huge risk having never used this product ever. Had ZERO issues race day. No gut problems etc. The only "problem" I ran into was mixing my last bottle mid race. We have hard water here in Hawaii and it took a touch longer to dissolve. The taste is indeed neutral with some sweetness. I dropped a Nuun tab for extra kick. Be warned the mix does get slightly more viscous than water. If you do drop nuun or other tabs in there it will take longer to dissolve. The gels are less sweet than the mix and extremly thick almost like jello. Went down really easy and I actually was very happy with the taste mid run. Nice little snack. All in all very happy with purchase and this stuff does work! Didnt hit that wall even for being a slow poke!
11/29/2019
Anonymous
United States
I recommend this product
All ok nice product
All ok!! Nice presentation
10/24/2019
enrique p.
United States
I recommend this product
great package
had everything I needed
08/03/2019
Ana H.
United States
I recommend this product
Maurten
Great product and fast shippingk
08/01/2019
Dean G.
United States
Awesome stuff
I love this stuff. I've been using it on my long runs while training for Pikes Peak. Energy levels stay high with no stomach issues. The taste is good as it's not too sweet. I gave to all my training partners to try and they have now ordered their own.
Maurten works
I've relied on Maurten exclusively for about a year now. The starter pack comes with two sizes of servings to best support you through various intensities of training/competing. The 160 pack (lighter days) tastes very mild, the 320 packs are a little more tastey. A great flavor of Black Current tea, very easy to drink. In short, Maurten works. It keeps you hydrated., which keeps you moving.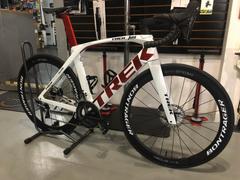 Helps me with my training. Easy on your stomach.